3) Prepare the diffractometer for mounting.
This will bring up another window that looks like this: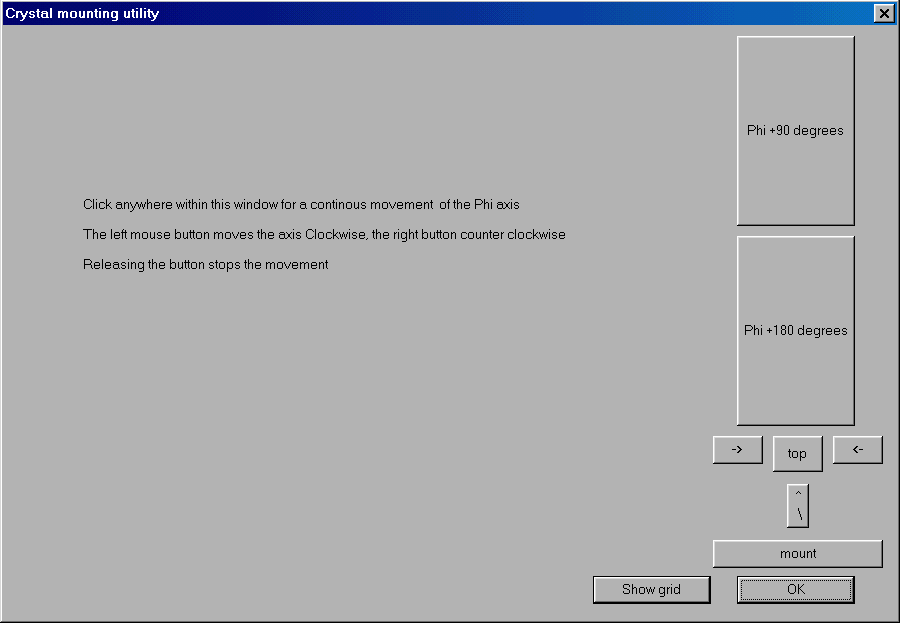 There may or may not be a view of the crystal in the window.
DO
NOT
CLICK "MOUNT"
The way this machine is set up, clicking on "mount" is a dumb idea.
It sends the goniometer to ĸ= 0, which puts the mounting pin in line with the cold stream, and that is
BAD
.
Why is it bad ? Because frost will grow on the pin, goniometer head and phi block.
It would also shrink the mounting pin slightly if one were mounted. This
CAN
and
WILL
cause the crystal position to move, and this is
NOT
good. To have any confidence in your data, the crystal
HAS
to be centered and it has to
REMAIN
centered throughout. There are no exceptions here - do not try to invent any excuses.
On this machine,
ALWAYS
mount from an angled position.
Click on the " \ " button - the one below the "top" button.
The diffractometer is now ready for mounting a crystal.
Go on to Kappa_Help section 4
Go back to Kappa_Help section 2
Go back to the Kappa_Help menu
Return to the main Tutorials page or to the main X-Ray Lab page